► Ask a Bible or Life's Question
Recommended Resource: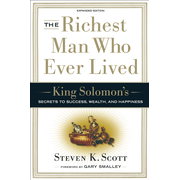 The Richest Man Who Ever Lived: King Solomon's Secrets to Success, Wealth, and Happiness
By Steven K. Scott / Random House
After Steven Scott flunked out of six jobs in his first four years after college, his best friend, Gary Smalley, offered one simple suggestion that would transform his life: study a chapter in Proverbs every day. Two years later, using the amazing strategies he gleaned from Solomon, Scott started a small business. In this life-changing book, Scott reveals Solomon's often-overlooked wisdom for achieving breakthrough success in one's work, health, marriage, and relationship with God.