► Ask a Bible or Life's Question
Recommended Resource: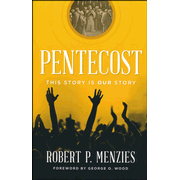 Pentecost: This Story is Our Story
By Robert Menzies / My Healthy Church
Robert Menzies lays out clear, compelling, and concise truths about the relevance of the Pentecostal experience for Christ's followers today, tomorrow, and the day after that. He does not agonize over whether this experience is right or wrong…he explains simply and clearly that the story of Pentecost found in the book of Acts is the story of every believer. With a keen intellectual presentation that is both informative and intriguing, he explains that Pentecostalism is Christ-centered and Bible-based. It is the model for the mission of the church.